Colin Proctor, co-chair of the CQIC working group, recalls what he heard and learnt at the CQIC launch event.
This was the joint event with GIRI on 9 February for which we recently celebrated the 6-month point!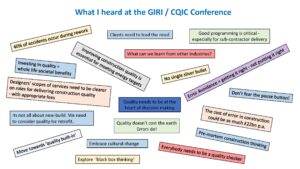 Colin still refers to his notes, which capture some of the main points (see above) that our speakers raised. These range from, why a change in culture is needed to what needs done to achieve a sustainable quality culture.
Colin has picked out some of the key points –
"The startling statistic that 40% of accidents occur during rework, was only one aspect which brought construction safety and quality together.
The need to improve construction quality in order to achieve the requirements of achieving net zero was another important focus. The estimated cost of error of £22bn per annum across the UK should be a factor which makes addressing quality a critical mission.
It was also bolstering to hear that CQIC is on a similar path to others, like GIRI, to create that 'right first time' culture. The partnership with GIRI continues.
Six months on, we find that not just the conversation, but fresh action, is gaining momentum and it is really encouraging to see.
We learn that some clients are being more flexible in the management of delivery programmes – working in partnership with their delivery teams and allowing more time to get it right, rather than a push on to a difficult completion date.
We also know that most main contractors are now using digital capture tools for recording progress and quality on site, and in many cases to a granular level of detail. And some are embedding this into their BIM information models, improving the quality of information to help with compliance and for project handover. This has created a new focus for the client, supply chains and consultants to embrace these new techniques."